Less goals and more to gain in 2018
Well hey there 2018, you mysterious thing you.
And thanks readers for joining me after a sort-of-trying-to-kinda break from writing and Social Media this Christmas.
I'll start by saying that if you're expecting a "New Year, New You" blog post then move on cus I'll say right now, this aint it. You don't need a New You. "You" now is fine. "You" now is enough.
You also probably DO enough….or maybe, if anything, too much.
This was the mantra I needed a couple of weeks ago as I laid in bed at 11am on a weekday trying to will myself to get up and start my day. To get up and work, write, tidy, plan, make calls, reply to emails, check my bank account, eat, exercise, shower, dress myself, have a glass of water….anything.
But NOPE. It was all just too much. I was overwhelmed.
I was ill, burnt out and even the most basic thing on my to-do list simply felt like a mountain. I would find myself at my dining table (aka the unofficial home office) with my head in my hands trying not to cry in between trying to perform any of these tasks.
I felt like the whole world was embracing a new revitalised them (bleurgh) for the new year and I was just sat here like…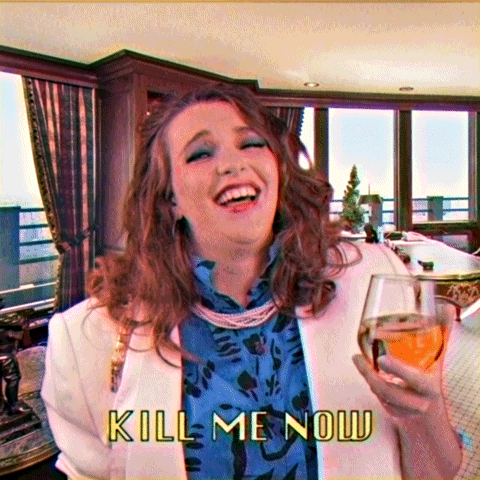 I will admit, regardless of your opinion of new year's resolutions, the research does show that these "chapter" moments in our lives are effective times to set new goals. Whether that be a new week, new month, new year, birthday, anniversary, whatever.
BUT I argue that the start of January is NOT a great chapter to be included in this list.
It's dark most of the day, you're full of unhealthy food (and probably feeling a bit guilty about it), exhausted from Christmas prep, travels and maybe just downright burnt out from the previous year.
What we really need is a new year decompression plan rather than an extra to-do list. Less stress and more to gain in 2018
I decided that my overwhelmed mind needed LESS things to worry about, not more.
So that's what I'm going to sort out.
Instead of giving myself new year tasks I'm going to let go of some stuff instead and re-focus the energy I already have on what's really important.
For example, before Christmas I joined Instagram to get and share some good vibes with the writing community. Then quite quickly found myself obsessing over follower numbers, other accounts infuriatingly using bots and whether I was posting frequently enough.
It went from being a joy project to something to be stressed over.
I then realised that this was going on in most other aspects of my life. My work for a company I adore, following my passion and writing a book or even planning my wedding. All these things I started with such giddy inspiration and elation but had now become an ever growing to-do list that would keep me up at night with worry and guilt.
The projects and tasks themselves hadn't changed but, without realising, the parts of them I focused on had. I was creating goals and concerns around the projects that ended up sucking the life of it….and of me.
So, here are some things I'm going to let go of and refocus on:
Letting go of Blog optimisation and performance
Reminding myself to focus on
Simply sharing my journey and telling my truth
Letting go of
Social Media followers Reminding myself to focus on
Just spreading the good vibes to whoever wants/finds it (and sharing cute cat pics) Letting go of
How much of my book I've written Reminding myself to focus on
The joy I get from writing Letting go of
If what I write is good enough Reminding myself to focus on
Simply desiring it to exist in the world Letting go of
Organising everything and everyone for the wedding Reminding myself to focus on
Having fun and just showing up knowing it will be a great day
...and it goes on and on as I start to refrain every "must-do" in my day to a "what brings good?"
Don't get me wrong, goal setting and measurement are important. I'm all about the S.M.A.R.T goals yo.
Hell, I spend most of my working day analysing digital marketing metrics and preaching the value of measuring success (which is probably one of the reasons I wanna ditch em in my free time) but when it comes to my health, lifestyle and passion projects I know deep down that if I focus on the Why and the Joy of it then the rest will fall into place.
My success needs to be defined less by stats, lists, word counts and calories. And more about how much energy I spend on things that support my values and bring the good vibes.
On your deathbed what will you really care about?
Whether you aced that one test... or reached that one deadline...or got 1000's of Instagram followers... or got those specific napkin colours for your wedding? No fam.
You'll be looking back on how much time you might have wasted worrying about all of that when you could have been pursuing what makes your heart sing.
Even if sometimes that means dropping your writing goals for the day and enjoying red wine, Netflix and a cat on your lap.
This year define your success and even yourself by pursuing values. Most other things thereafter can lie where they belong in the "Fuck It" bucket.